Adonit Jot Touch PixelPoint – Styli Goes Pro
Published: August 23rd, 2014
Adonit have been striving for some time to create a stylus that comes as close as possible to replicating the ease of writing of that old school tool, the pen and paper. And they've been getting pretty darn close. But with their latest release, the Adonit Jot Touch, they have incorporated features from a number of their styli into a single pen that really takes stylus writing on a tablet to a whole other level. There is however, one small catch – app compatibility. And that is where Adonit has some work to do yet to make the Jot Touch the success it has the potential to be.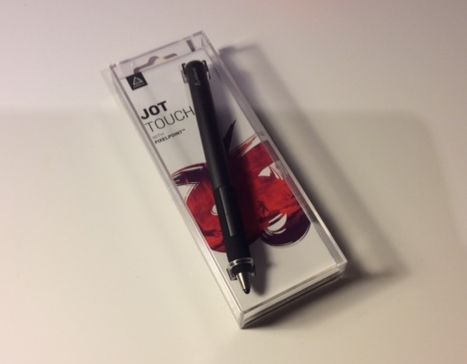 So, let's start with what is usually the major talking point with Adonit styli – the tip. The tip itself is actually smaller than the Jot Script Evernote edition (a feat in and of itself) but the base is quite fat and sometimes feels a little clunky when compared to the Script. It is, however, quite precise and has a nicely cushioned pad behind the tip that acts almost like suspension in a car, preventing the tip from clicking on your tablet screen and making it feel more like pen on paper when you write.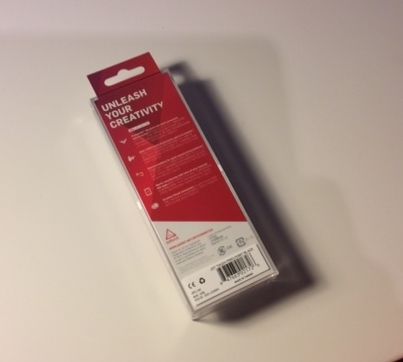 Further enhancing this sensation is the pressure sensitivity. When you draw a line slowly vs quickly with a pen or pencil you see a difference between the two, but styli have not been able to offer this level of sophistication in the past. Writing with the Touch delivers a new layer of sensitivity that you can see readily just by squiggling a few lines around.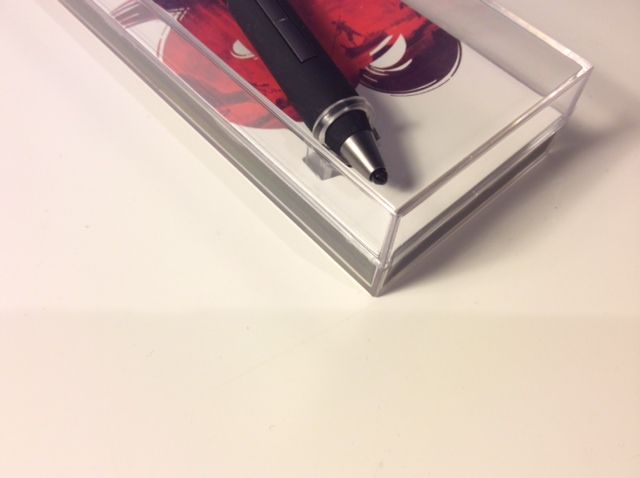 The weight balance of the Touch is also markedly improved over its predecessor due to the new built-in rechargeable battery. The Script uses a AAA battery which made it very difficult for Adonit to balance it properly as all the weight of the battery sat in the stylus' end. Now, however, it is much more evenly distributed and feels great in the hand. Plus you no longer have to keep forking out for AAA batteries either! Even better, the charger works off USB and is small enough to hang on your key ring like a thumb drive if you're so inclined. The battery life is fabulous too and it took me two weeks of reasonably solid use at university to finally drain it. When it came time to recharge the stylus snapped neatly into the USB charging key and was done in about an hour.
So, so far so good right?
Sure is. The only problem, and it is one that is likely to be resolved with time, is that there are a number of great features that aren't yet compatible with all your favourite writing apps. Case in point with my testing: I use GoodNotes 4 to take all my lecture notes but it isn't compatible with the programmable shortcut keys offered by the Touch, a feature I have wanted Adonit to include for some time. In fact there are only 2 apps available that actually support the full suite of features offered by the Touch (Adobe Line and Adobe Sketch). GoodNotes 4 currently only supports palm rejection (which still needs a little bit of work if one is frank) but as Adonit bring more partners on board and increase the range of compatible apps I can see this stylus really making some serious ground in the market. In the meantime it will still work with non-compatible apps, it just won't offer all the additional functionality.
So is it for you? Or would one of the other great styli in the Adonit range suit you better?
The price may end up being the deciding factor for many. For the budget buyer the Jot Pro is definitely still a great investment. It doesn't require battery or Bluetooth connection and remains the only stylus in the range that has a magnet allowing it to clip onto your tablet when not in use.
For the mid-range buyer the Adonit Jot Script continues to be an excellent choice and will provide greater precision and ergonomics than the Jot.
Finally, for those that are going to use their stylus day in and day out and require more advanced functionality the Touch is definitely worth the investment. Yes, it's expensive, but if it's a tool of trade for you, then it's worth every penny.